Baltic States & Saint Petersburg - Part 2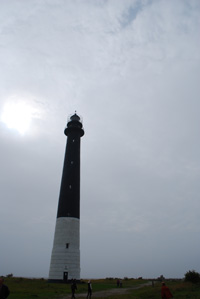 … to test some maneuvers as the ferry was only two weeks old. From the island of Muhu we went southeast to Kuressaare on the island Saaremaa where we stayed for two nights. That evening we ate in an old, Dutch styled, windmill.
Day 8: Saaremaa #
The following day a number of people went on a bus tour to the most southern part of the island. We first tried to find a large number of swans but we only saw about ten. Finally when we went further south to the lighthouse of Sääre we saw more and more swans. During the tour we stopped for lunch: mushroom soup from freshly picked mushrooms, a piece of a pizza snack, apple pie, fresh apple juice and coffee specially made for us. Further en route we stopped at a Soviet memorial for WWII. Coming back from the bus tour we visited Kuressaare Piiskopiliinus (Kuresaare Castle). Too bad most of the castle was being restored at that moment and several exhibitions were closed.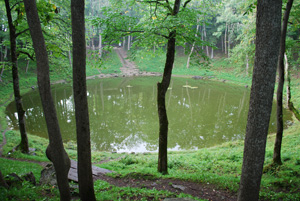 Day 9: Kuressaare - Tallinn #
On our way to Tallinn, still on the island Saaremaa, someone in the bus shouted "Kraanvogels!!" (Dutch for cranes (birds)). Four Demoiselle Cranes (birds) were just walking in the field. Not much further we took a look at Kaali meteoriidikraatrite väli (Kaali meteorite valley). The most interesting of the group is the largest crater, a gently sloping bowl filled with stagnant, murky water. Returning back to the same road where we saw the cranes we saw a glimpse of a lynx; at least we guess it was a lynx. Taking a slight detour we came by Angla Tuulikud (windmills of Angla). All the windmills are recently build but build in a traditional way. This time the ferry followed a direct route to the mainland of Estonia.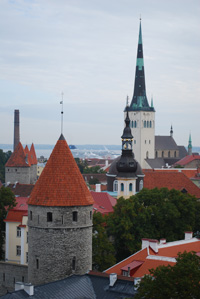 Day 10: Tallinn #
The city map we had of Riga had illustrations of all the different and interesting buildings and monuments on it but we had no such map of Tallinn. Nonetheless we found a lot of interesting places with the help of our guides. I think Tallinn has the most beautiful old city center of all the cities we visited during this trip with narrow winding streets, old buildings and a great square next to the town hall. We had lunch at a restaurant called 'Olde Hansa' and one of my fellow travelers asked for a coke. The response he got was: "We do not serve such mysterious drinks here. You have the choice of water, wine, beer or juice." LoL!
Day 11: Tallinn #
I was thinking about going to Helsinki, Finland, or a visit to the vaults of Tallinn. The latter became my choice as I didn't Helsinki was interesting enough to take the boat there and walk through that city. And visiting four countries in one vacation also was enough I thought. I'm glad I chose for the vaults: a must-see for every visitor to Tallinn; very intriguing stories and a nicely done with lights, video and sounds. After the vaults we also visited the museum of Kiek in de Kök (low German Peep into the Kitchen). Our tour guide found us a restaurant that evening in a wine cellar. It was for a small group only, eight in total, and more wasn't really possible; they didn't want to move their antique furniture. The dinner was rather expensive but it was incredibly well prepared and it tasted fantastic.
Day 12: Tallinn - Saint Petersburg, Russia #
Just before we crossed the border to Russia in Narva we stopped at Narva Hermanni linnus (Hermann Castle). The castle is situated on the edge of the Narva river which also is the border with Russia. Crossing the border with Russia isn't by far as easy as crossing the borders between Lithuania and Latvia and between Latvia and Estonia; it took us at least 75 minutes. We had to fill in a immigration form, the bus driver had to hand over a list of all the names of the passengers, we had to take out our baggage and pass the passport check. Luckily no one made a big fuzz out of it and we all entered Russia without any problems.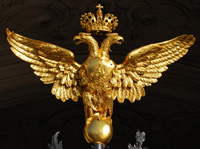 Day 13: Saint Petersburg #
We wanted to take a taxi to the Hermitage Museum because it was a bit too far to walk there so our tour guide hailed a taxi. Three of us got in the first taxi and the driver drove away. He noticed that more taxis were needed as we were with nine people so he stopped at the next corner. He sounded the horn several times: no reaction. He opened his door and shouted the name of the other taxi driver: no reaction. He banged on the window and finally the guy woke up. Another taxi was waiting on the other side of the road so we all parted to the museum. We spend several hours in the Hermitage looking at all sorts of art. I joked I saw only two paintings I liked amongst all of the paintings and there are some there! In the afternoon we made a boat trip through Saint Petersburg to see the city from a different perspective. We couldn't understand anything the audio guide told us but that didn't matter. Later we paid a visit to the Kazan Cathedral and the Church of the Savior on Blood; both have incredible exteriors but that's nothing compared to their interiors. Both have massive amounts of gold plated structures, lots of marble and large amounts of paintings.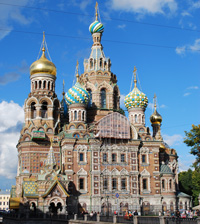 Day 14: Saint Petersburg #
No taxi this morning but the subway or metro; first a descend into the deepest subway in the world and than a squeeze into the carriage. Hold your breath for two stops and breathe out :-). We had to go one stop further so we could breathe normally for that final part. We ascended into the open air on Valisevkiy island where we headed to the Aurora, a Russian protected cruiser. Our next stop was Peter and Paul's Fortress. There we visited the St. Peter and Paul's Cathedral where most of the tsars are buried. The cathedral has an enormous gold plated tower of 122 meters high. The last cathedral we visited in Saint Petersburg was St. Isaac's Cathedral. Once again enormous amounts of gold plated structures and lots of decorations.
Day 15: Saint Petersburg - Munich - Amsterdam #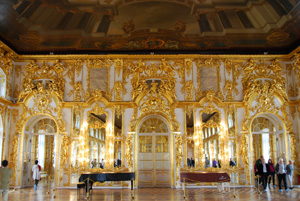 On our final day of the vacation we went to the summer palace of Catherine the Great (Catherine Palace). I have never seen anything like it. So much gold plated decorations, such large halls and rooms and a very extravagant interior. After the visit we walked through the garden next to the palace where we got an a cappella performance. What a voice does that man have!
Leaving Russia is maybe even more difficult than entering or at least more stressful. The check-in itself took a while but that wasn't a problem and so wasn't the passport check. I believe in thorough security checks but this was just over the top. Firstly our entire luggage was scanned at the entrance of the departure terminal. Secondly our hand luggage was scanned and we had to step through a scanning device ourselves. I guess they don't trust those as we all got searched manually after we stepped through. Then, in Munich, once again our hand luggage went through a scanner and we all had to step through one as well. This time something entirely new happened to me; I had to open my camera bag - the woman posted there noticed it was a camera bag - and had to mount one of my two lenses on my camera, turn it on and let her look through the view finder. Why check to see if a photo camera is a photo camera?
A great vacation in four different countries - the most countries I have ever visited during one vacation - with interesting cities, buildings, stories, people and great landscapes. Well worth visiting but not really my type of a vacation. I like visiting cities but I like the countryside more. I had a lot of fun and I cannot guarantee I will be back there someday but I could definitely recommend it to others!
More photos can be found here.