Baltic States & Saint Petersburg
Day 1: Amsterdam - Frankfurt - Vilnius #
This year I decided to go on vacation to somewhere I had never been before and never really thought about going to: the Baltic States and Saint Petersburg.
Our - I went with a group there - flight was scheduled to depart at early in the afternoon from Schiphol Airport, Amsterdam, but as always you have to check in a few hours in advance. Nothing special about that, but that morning I was still without my passport. No one in the group had his or her passport and we all knew about that, but it's not a very comfortable feeling.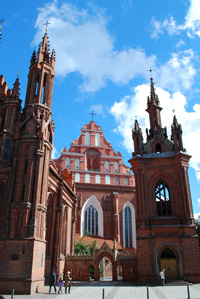 The Baltic States are part of the European Union (EU) so I can go there without the need of a passport, but not to Saint Petersburg. For Russia you need a visa and that took longer than expected. That's why none of us had our passports. Just before check-in we all got them back from the tour guide and all was well.
Waiting at the gate before departure someone noticed I had the same book about the Baltic States so I already met some people.
We flew via Frankfurt, Germany, to Vilnius, Lithuania. On Frankfurt Airport we had to wait in line for the mighty Airbus A380 to take off. Once arrived in Vilnius we entered a bus that took us to our hotel.
All but two went to the city center for our first dinner.
Day 2: Vilnius #
Most of the group went with the tour guide to Gediminas Tower where we first had to go into a cable car to ascend to the tower. After a while the mist rose and we could see more and more off the city.
When we had enough of the view, we walked about the city center looking at all kind of different and interesting buildings and streets. After a nice cup of coffee on a terrace in the sun near to the Town Hall we visited St. Anne's Church and went to a beer brewer-pub to taste some beers and had lunch - we ate some local beer snacks.
Day 3: Vilnius - Nida #
In Lithuania, Latvia and in Estonia we would travel by bus with a local bus driver (from Lithuania) so we all put our baggage in the bus and departed for Trakai where we visited Trakai Castle.


We stopped there around 9.45 AM but the castle was open for visitors from 10 AM. As the gate was unlocked one of us took a peek inside but was sent back by some local guy as they are very strict as it comes to opening times. 10 AM is 10 AM and not a moment sooner.
The castle is almost completely restored with red bricks. They did a nice job but not in a way I like it. Overall it was worth visiting nonetheless.
Via Trakai we went to Kaunas where we stopped for lunch. Nothing really special to see there but a few kilometers outside Kaunas is a huge memorial to the victims of fascism at Devintasis fortas (The Ninth Fort): A very impressive concrete structure for all the gruesomeness that was done.
To get to Nida we had to take the ferry from Klaipeda to the Neringa peninsula. That took almost 5 minutes!
Nida is a nice small town on Curonian Lagoon situated only a few kilometers north of the border with Kaliningrad - which is part of Russia - on the Neringa peninsula. I do understand why so many tourists come here during the summer months: it's so peaceful and beautifully located.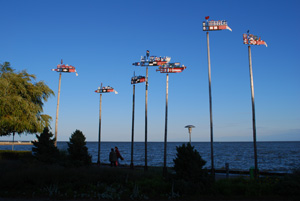 Day 4: Nida #
On this day two of our group and I decided to take a bicycle trip. We first went south to climb up the highest dune of the peninsula to see the border with Kaliningrad. We then went north to Preila for a cup of coffee and further north in the direction of Pervalka. Just south of Pervalka we crossed the peninsula to the Baltic Sea. Crossing back to Curonian Laguna we had lunch in Pervalka. Being already reasonably tired of riding we went back to Nida in one go. How we craved for a beer…
That evening we a great deal of the group went to the same restaurant for dinner. We all got served as we sat next to each other but two. After waiting - they did get a drink - for more than an hour they got up and went for another restaurant.
Day 5: Nida - Riga, Latvia #
From the Neringa peninsula, with a small coffee stop in Klaipeda, we went to Siauliai. Some kilometers northwest of Siauliai is the Hill of Crosses. I have never seen so many crosses at one place. What an incredible location. There are around 50.000 crosses located on the hill.
Just a few kilometers south of the border to Latvia we came across a field with around 50 deer. They were surrounded by fences but nonetheless nothing I see every day.
As all the Baltic States are part of the EU the border into Latvia is nothing really more than a sign and some empty buildings.
Just north of where we crossed the border we visited Rundales Palace. Fields, more fields, some wooden houses, more fields and even more fields and suddenly a huge palace in the middle of nowhere. Quite a beautiful interior but nothing compared to what we saw on the last day of the journey.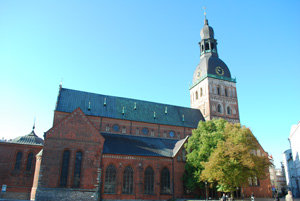 Day 6: Riga #
Crisscross we walked through Riga to see every special building we found on our city map. Lots of churches, old buildings and nice streets were some of the interesting sightings. Another was the Central Market located in and around old zeppelin hangars.
Around twelve of us went that evening to a medieval restaurant in vaults of the city. We enjoyed our foods, drinks and the live music by candle light. All the staff was dressed in folkloric clothing which really completed the picture. A great way to end a day in Riga and Latvia for that matter.
Day 7: Riga - Kuressaare, Estonia #
The diner in the medieval restaurant was not really the last thing we did or see in Latvia. We went to see Gutmanis Cave and Turaida Castle in Gauja National Park before we left Latvia.
The cave was the highlight of the whole trip…not. There is a story about the cave which is connected to the old Latvian story of Maija (see here), but the cave itself is nothing more than a small opening inside a sandstone wall.
The castle was quite interesting and nicely restored with still some ruins. I had a great view from atop off the tower.
After a short stop in Pärnu for lunch we drove to Virtsu to take the ferry to the island Muhu. About halfway the ferry suddenly and violently turns around …