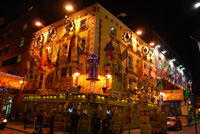 As my sister was staying in Ireland for about half a year, my brother and I visited her around New Year's Eve. She is doing an internship at the University Cork College but came to Dublin to join us for a small trip to Cork.
We arrived at Dublin airport after a normal flight from Schiphol Airport, Amsterdam at 28 December. We started with almost completely clear skies but landed with a dense fog where we could only see the tops of some buildings. Must have been a landing on instruments only, but nonetheless a fine landing.
We took off to the car hire section and got one of the ugliest cars there are: a Nissan Micra. But hey, it would probably do its job fine.
As we are used to drive on the right side of the road we had to adjust driving on the left and shifting with our left hand, but we managed.
Next to the train station we picked up our sister and headed for our first accommodation in Dublin. Later that day we went to the city center by bus and walked around, sightseeing Dublin in the dark. It was pretty cold but dry so we weren't bothered by it that much.
Dublin to Waterford #
The following morning we took off in the direction of Waterford. As we had all day, we decided to go south through Sally's Gap in the Wicklow Mountains to visit a monastery at Glendalough. We never managed to get there because of what happened that morning: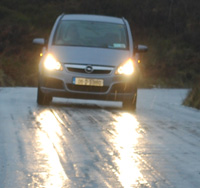 I was driving along winding around some nice country roads going up and down slightly. We stopped somewhere to take some pictures of a great view and it started to snow. The road was covered in some snow and ice along the way but by being careful we managed to cross the countryside. Turning right we saw a sign lying on the opposite lane but didn't give it much attention. Later we saw what was on the sign…We ignored it and headed further to Sally's Gap where the road started to wind more and more and going up steeper than before. More and more ice was on the road and quite suddenly the only things my front wheels were doing was spinning and the car stopped on the incline. Hmm, what now we thought. Going further is impossible and going down backwards was not my first idea. So we tried to turn but as it was very slippery we were stuck sideways for a while. The car had front wheel drive but even that doesn't work if only one wheel has traction. We stayed cool (literally and figuratively) I thought about putting some towel beneath the wheels and that did the trick. The car had traction and we managed to turn around. I slowly descended down the road and saw some other tourist coming in our direction. They noticed that it was impossible to continue so they eventually managed to turn around too. Four or five other vehicles approached but all turned around because of what we told them. Driving down very carefully we past the fallen sign which was put upright by someone now: "Road closed" it said…
Well, no Glendalough than. So we went to the east coast and cruised down south by that road to end up in Waterford later that afternoon. That day it started to rain.
Waterford to Cork #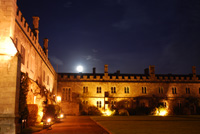 As we went to the second largest city in the Republic of Ireland, Cork we went from Waterford via Clonmel, Caher, Mitchelstown and Fermoy.
Just south of Clonmel was, looking on the map, a nice road going in a rough circle. We decided to try out that road keeping in mind the previous experience on the winding narrow roads. Somewhere along that route there was another placed called Glendalough. As you can guess, we didn't manage to get there either. We probably could, but as the road was covered in snow we decided not to push through with it. We again turned around.
As the rain kept falling the whole day we drove the somewhat more main roads to end up in Cork. We stayed in a guest house where we were welcomed with a High Tea which consisted of tea, homemade scones and bread. What a great welcome that was!
That evening, still raining hard with high winds, we walked to the city center to eat something. We walked straight into the wind and rain so even an umbrella didn't keep us dry from our coats down.
After a lovely diner we went back to the guest house to pick up some games and went to our sister's place. Getting even wetter by than we completely had it with the rain and the cold but we also had to walk back to our accommodation later that night. As the wind kept throwing our umbrella outside in we put them away and faced the rain bareheaded. Luckily the forecast for the next days was a lot better but still cold, just below freezing.
My sister took us around Cork to see where she lived for the last couple of months. She showed us where she worked and took us to some nice placed in the city.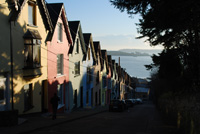 Just a few weeks earlier Cork was flooded due to heavy rain and walking alongside the river we found a place where the side had collapsed. And what's that on that sign on the wall: Glendalough! We found it, we found Glendalough :-) It was a bit disappointing to be honest…not the monastery we imagined somewhere remote in the mountains.
That night was New Year's Eve and we enjoyed a drink and stayed up late. There were some fireworks but as it's banned in Ireland we didn't see much.
On New Year's Day we went for a short ride to a lovely town called Cobh just a few miles outside of Cork. As the weather was great, still cold but dry with an abundance of sunshine, we enjoyed a great day out. Later that day, we ate at our sister's place and played another game or two before we said goodbye and left her to continue our journey through Ireland with the two of us.
Cork to Kenmare #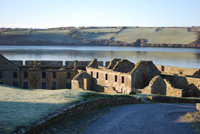 With still great weather but now freezing we went first south to Kinsale. The roads were very slippery at some points but nothing spectacular. We visited a fort that was beautifully preserved. We stopped there just before 10AM and outside of our knowledge it opened at 10AM so we were the first ones to visit that day.
Kenmare is a nice little town at the end or beginning of the Ring of Kerry. Lots of tourists come through this town but as it was the second of January it was pretty quiet down there. Just outside the town there is a stone circle which we visited after dinner. As it not lighted we tried to create some cool pictures in the dark and possibly the stars. The skies were almost clear so the stars were nicely visible. But what the heck, where's that light coming from at this time of day?! It was the moon! It was almost a full moon, looking great but interfering with our plan to create some night shots. Nonetheless we made some funny pictures there.
Kenmare to Limerick #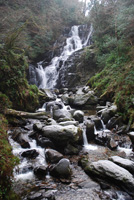 To get from Kenmare to Limerick you could just take the main road but we took the Ring of Kerry. A great route along the west coast. We came past a castle along the way and walked up to a beautiful waterfall in Killarney National Park.
It was now Sunday evening in the city of Limerick. Limerick is known of lost of unemployed people mainly due to the financial crisis that hit Ireland very hard. It's also not the safest place to walk around these days. As it was Sunday evening it was very quiet in the city center, but we had to eat something. We saw a MacDonalds and a Burger King, but we didn't want to eat there. We couldn't find a restaurant for some time but then we found one. It was Texas styled restaurant in a basement. We could believe how full of people it was seeing almost no one on the streets. We had a great diner there.
The following morning my brother took a shower and after he was finished I went to do the same. Hmm, where has all the water gone? The tap was fully open but less and less water came out. There was no pressure at all anymore. After asking one of the owners of the Bed & Breakfast we heard it was probably a frozen water pipe.
We went to Galway that morning.
Limerick to Galway #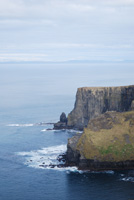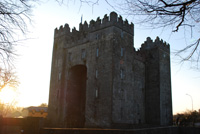 The way from Limerick to Galway is not very long, so we took a detour via the Cliffs of Moher. But first we visited the Bunratty Castle. The castle has been restored in a beautiful way and was definitely worth visiting.
The Cliffs of Moher were next. You get a great view of the cliffs from O'Brien's Tower. Lots of tourists visit this sight and I can believe why.
We traveled along the coast up north to Ballyvaughan through The Burren. We went down south at Vallyvaughan to Lisdoonvarna. That way took us over a pass. This time it had a bunch of hairpin bends…with a slippery layer of snow on them. It took a while, but we managed to get up there. On top of the pass a lot of snow had fallen. The road was covered and only two tire tracks were visible.
Near Lisdoonvarna we stopped near a ruin of a castle to meet an American tourist that had seen us at the Cliffs. We talked for a while and went our separate ways. We stopped at a remote locating to witness a magnificent sunset next to the ruins of an old monastery and a slightly crooked tower.
We had a great night at a Bed & Breakfast in Galway.
Galway to Dublin and back home #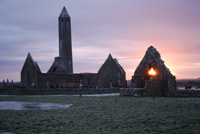 At breakfast in the B&B we saw what a great view they had looking out of the window over the bay. But we weren't there for the view; we had to get back to Dublin to catch our airplane later that day.
Between Galway and Dublin lies the M6. It's not completely finished, but the main part is done. As my brother was driving along at around 100kph (60mph) the whole car slid left and right a bit because of the slippery road. Letting the car slow down to around 50kph (30mph) the car still wasn't quite stable but we managed. Exiting and the next possible exit we took the old N6 which has worse road surface but far better traction. With the slippery motorway in our heads we decided to not stop anymore for pictures but just went to Dublin Airport.
The takeoff was slightly delayed as we had to be deiced but we had a good flight.
To sum up some things: Ireland is a great country with great roads and views. But visiting in the hardest winter since 1963 was a bit chilly. I had a great time but am glad to be back in a warm and cozy house.
To see the pictures I took along the route, you should definitely click here.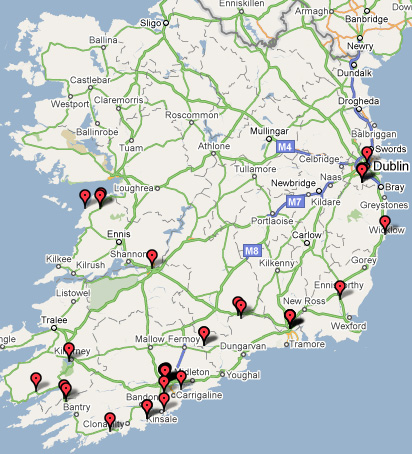 A rough outline of the route we took