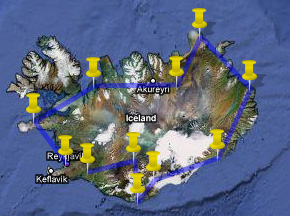 I always wanted to go to Iceland, but never had the chance to do it. But with the financial crisis (I hate those words) running deep there I thought this is the moment. One third of all Icelanders are broke! It still was a costly vacation, but what the heck. All past vacations I took were with (some of) my family. We often went with the five of us (my parent, my older brother and my younger sister), but since I'm not living with my parents and no one wanted to go with me because of other plans I decided to book a trip with Djoser to join a group. I had never done something like that before, so it was quite a step to make. Our group was 22 people large, with 8 men and 14 women. Just right for a single guy like me… Our group was lead by a Dutch host and we had an Icelandic bus driver with us. Our trip went round Iceland in a counter-clockwise manner and started at the international airport of Keflavik.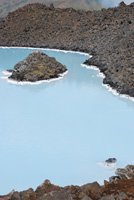 We had a three hour flight from Schiphol, Amsterdam and landed rather roughly on the mainland of Iceland. From there we took the bus to our first stop at the Blue Lagoon. The Blue Lagoon is a geo-thermal bath where you can relax after a long day. Here I met more closely several people of our group and found out that some of them came from a village next to where I live, what a coincidence. After some relaxing, we went to our first accommodation at Gauverjaskóli. Not knowing anybody and we had sleeping rooms with places for three or four, I was put in a room with three women. What a start of a vacation! Obviously nothing happened.
The following day we went to Þingvellir which is basically a huge rip in the surface of the earth where the Eurasian and the North American continental plates are drifting apart. Some interesting detail: in the second week we were at Iceland, a hotel burned down there. So most of us now have some unique pictures of the sight.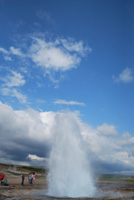 After seeing this, we went to another spectacular sight called Geysir. All geysers are named after this, but Geysir doesn't erupt anymore. Fortunately only a few meters further Strokkur does.
We stayed two nights near a wonderful walking area called Landmannalaugar. And that's where we went. Our host decided to go hiking up an 880 meter high mountain, but luckily we were already at around 580 meters so it was only 300 meters up. Our group was split because four of us didn't want to take the hike. None but respect to the elder that did go up there, see was 72 or 73 years of age and climbed up the mountain like a mountain goat. The other took a lower pass to end up to a sulphur crater where we would end up coming down again.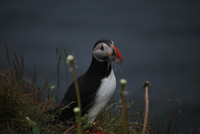 One of the reasons you can go to Iceland is the enormous variety of birds. One of those is the puffin, a clumsy bird that can swim very well. We didn't see that many near Vík, but we had another chance at Bakkagerði.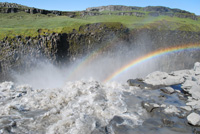 There is so much to tell, but I will skip some bits. We saw a lot of waterfalls ('foss' is waterfall) during our trip: Gullfoss, Sellfoss, Goðafoss, Skógafoss, Dettifoss and more.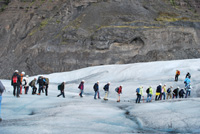 Something I did once before in Norway was walking on a glacier. We had the opportunity to do this at Skaftafell National Park at one of the glaciers of Svinasfellsjökull. Some of us were pretty scared walking on the ice on spikes, but others were walking there as it was grass.
At Rauferhöfn we went to the most northern point of the mainland of Iceland. It's about 2 kilometers south of the Arctic Circle. It's not that special because the only thing you can see is water, but the hike to that point was quite exciting. We took the bus as far as the road went and had to walk for 20 minutes or so. But walking there isn't that easy because you're continuously attacked or threatened by Terns as they are nesting and breeding there. I was hit once on my head, but several others of our group got hit multiple times.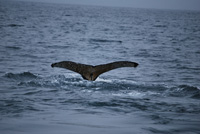 After Rauferhöfn we travelled to Mývatn (Mosquito Lake) where we didn't see mosquitoes but went on a whale finding trip from Husavík. We saw two types of whale, a species of dolphin and a humpback whale. As it was clouded and with a strong wind it was pretty cold on the water, but it was a great experience to see a whale that close. In the afternoon we took another walk through some lava fields and ended up in another geothermal bath. At Mývatn we slept in a dormitory for two nights. It sounds worse than it was as the hall was divided by some walls. You could hear everything, but that's part of experience. At the back of the hostel there was a swimming pool with two hot tubs where a number of us relaxed the first (and second) night. The first night, I was only relaxing in one of the hot tubs with this lovely woman from our group. I guess people were thinking stuff about us from then on.
We visited the second city of Iceland, Akureyri, where we had some time off to shop and be a tourist. Finally a day where we could relax a bit…but not for long. As always, we had to travel onwards to the next location. It became more and more like standing up, eat your breakfast, get on the bus, sleep, stop for a photo shoot, get back in the bus, sleep some more, walk a bit, arrive at the next accommodation, eat and sleep again. The further the two weeks passed the more tired all of us were, but what the heck. We all went on and enjoyed as much as we could.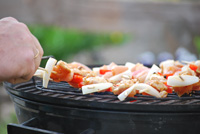 At Vatnsnes, Hotel Osar, the host and our bus driver delivered a magnificent BBQ and we all ate far too much. Near the shore were some seals and a dragon (of stone) where most of us took a walk along one of the dark beaches of Iceland.
The day after the BBQ we went to Stykkisholmur where we went on another boat trip. Stykkisholmur lies on the shore of Breidafjördur, a bay with hundreds and hundreds of small islands with loads of birds. It sounded quite nice, but it was a bit disappointing. We saw puffins, terns, cormorants and a bald eagle. That was nice, but we wouldn't have missed it if we didn't go on that trip. From there we went on to Grundarfjördur, a city with a population of around 900-1000. This was our last night with the entire group together. Here we had our last supper and thanked our host and our driver in front of a restaurant that wasn't finished at all. Our host called ahead to see if it was open and they didn't lie about that. We had a lovely dinner and a great evening, but we had to bring all the fun (and music) ourselves. The following morning the city was almost tripled in inhabitants by a large cruise ship that entered the harbor, so off we went to the capital city of Iceland Reykjavík.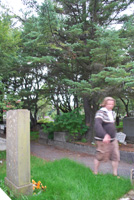 We had all afternoon to spend in the capital city, but found out that there wasn't that much to do or to see. We bought some souvenirs and had a great cup of coffee and walked around, but here again, we wouldn't have missed it if we didn't go there. The evening was a different story, a ghost story to be correct. An Icelandic guy called Jonas hosted a Haunted Walk through Reykjavík and told us some fascinating stories about the history of the city. The walk ended at the cemetery where we could feel something…what that was I won't tell.
The evening ended in an Irish pub where we had a beer and afterwards went to bed very tiredly. The following day we went back to Keflavík for our return flight to Holland.
I really enjoyed my two weeks on Iceland. They say the weather is very unreliable and it was; the first few days with rain, the others a heat wave. Our group was fantastic aging from 23 to 72 (or 73, I don't remember) and so was our host and our bus driver. Everyone really enjoyed staying and I can really recommend going there sometime! For impressions of how Iceland looks, see my photos.